Just a couple of quickies ...

First Vintage Rose .... Warm Pinks toned with chocolate ...... reminds me of Hot chocolate with pink marshmallows !!! oh how my mind works or am I hungry ???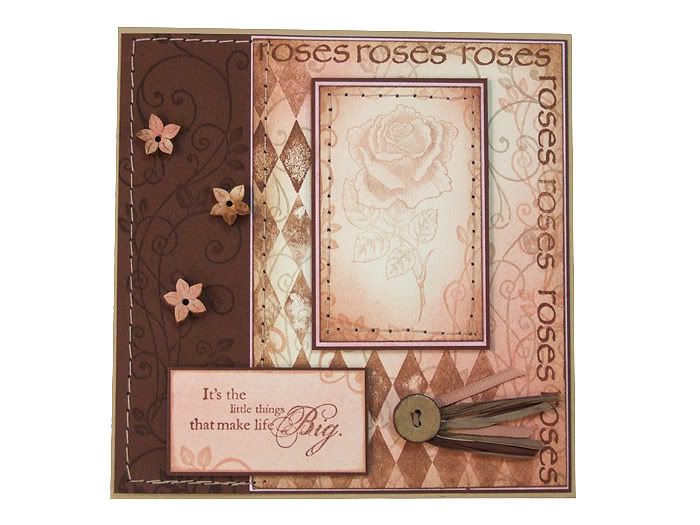 ABOVE:

Background: The main background was made using a ivory cardstock. Using Anna Griffin Ink pads - Cream and Shell - the flourish from the 'Graphicus Guild' members stamp pack ( month to follow ) was randomly used to create the flourish back ground.
Over this I used one of the Anna Griffin single row Harlequin stamps in her Chocolate ink colour - after inking the stamp I first did a pre stamp on a rough piece of paper to give the real stamped image some distress to it.

The 'Roses' word is from Elusive images 'Rose Stem Script' . Using my Ink dusters I randomly dusted some Shell ink and also some Memento Angel Pink, the edges were dusted with the Chocolate . The background then matted on to some pink card stock and then on to a larger
chocolate cardstock with the same 'Guild' flourish stamped over the cardstock in the Chocolate ( Tone on Tone ). On the left I added some stitching detail and also some wooden floral buttons - coloured to match - to add some dimension. On the right a larger button with some grossgrain ribbon (coloured with the Shell ink pad ) and some Rafia.

The sentiment is from Stampin-Up - in the Chocolate ink, again dusted over with the Memento and Shell ink and matted on to chocolate card stock.
ABOVE:

Rose Topper: The Rose is from Elusive Images new themeplate 'Harlequin Rose' and was stamped in the Shell ink. I used a matching colour pencil to add a little extra depth to the shading of the petals. The edges were dusted with Shell ink and also some of the Chocolate Ink, matted on to some pink then chocolate card stock. Again this was sewn around for extra effect.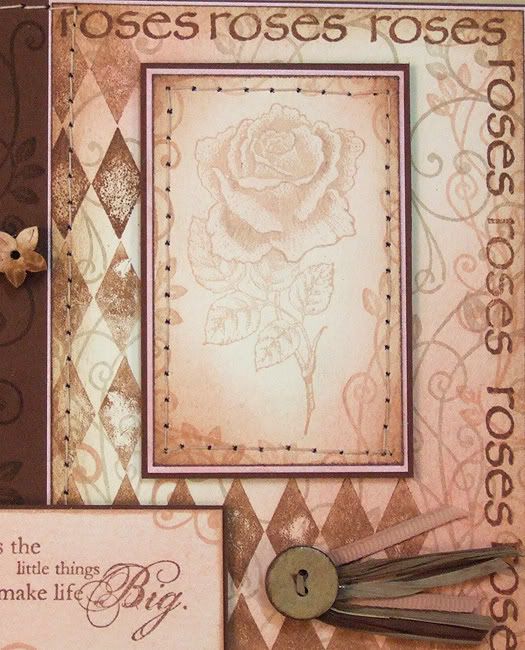 ABOVE:

Bit closer detail of the card.
Now on to Moiras' Tag
MOIRAS TAG: I just love those Alcohol Inks but big problem is when they come out I spend hours just creating Tags !!! This one below was just one of those that evolved as I was making it, no set plan.
I decided to send it to Moira - ( hope you don't see this before you get it ! ) but I'm sure that she'll agree that these pictures don't do it justice !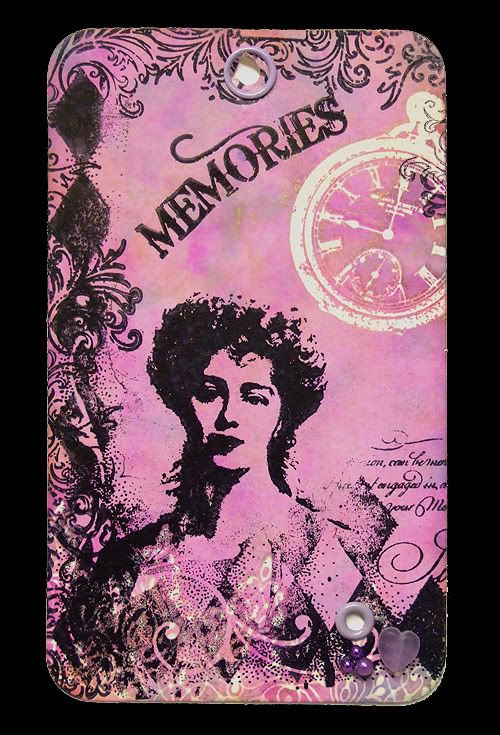 Please don't ask which colours I used as I just grab a few I think might work together and off I go. What I can tell you is what I did and what stamps were used:
Firstly I used the stamps as a clear resist with clear embossing powder - ( my preference when using Alcohol inks with resist ) - the watch is from Elusive images - 'Scripts and Timepieces' themeplate, the lower resist is from Elusive Images - ' Damask Squares ' themeplate. After applying the alcohol inks I then ironed off the clear embossing powder.
Using an Archival black inkpad I inked just the edging of the main rose stamp from the Elusive Images new themeplate 'Harlequin Rose' , now using a flourish from the 7 Gypsies NottingHillset I stamped around some of the edges. The Memories stamp is from the same set and even though it is supposed to be straight - the great thing with clear stamps is they are flexible enough to arch them !
The lady is from one of Joanna Sheens plates which were in her sale but I haven't seen them on again. In the lower corner I just added a few beads and an eyelet, at the top a gromet ready for a ribbon.

BELOW:
Just to show the shimmer of the mixatives - you really need to see this effect for real as it just can't be seen right on photographs.
It's in the post to you Moira x